SINDOK Co., Ltd. is a provider of technologies and automation solutions for BIW (body in white) in the automobile industry.
Since its establishment in 1987 with the company name of Geukdong-Jeongmil, we have continued to grow based on our technical capabilities and experiences, maturing for 30 years.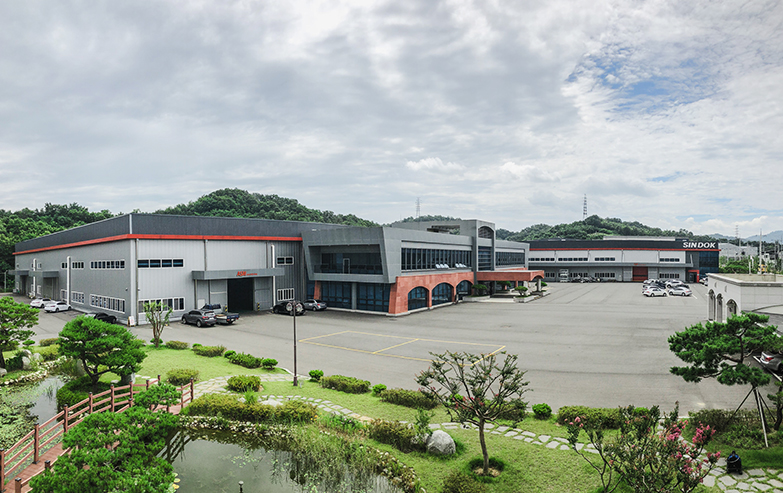 Business areas
Production of automation equipment
Address
83, Seongjusaneopdanji-ro 5-gil Seongju-eup, Seongju-gun, Gyeongsangbuk-do
Domestic
: 4 places of business
Overseas
: 6 places of business
Prize of 20 Million Dollar Export Tower

Order of Industrial Service Merit (Silver Tower)
Approved as a 'Youth-friendly Small Giant Enterprise' (by the Ministry of Employment and Labor)
Daegu-Gyeongbuk Company of the Year

Gyeongsangbuk-do SME Awards (Excellence Prize)
Selected as a 'Gyeongbuk Pride Product'
For product drawing, SE, electric/machinery design, processing, painting, assembly, measurement, installation, demonstration, and etc.,
SINDOK Co., Ltd. is equipped with space and devices for the development of automobile manufacturing equipment.

By providing customers with High Quality Solution, we lead the global automotive
industry and implement human happiness.
Human resource development
Development of human resources by establishing
human resource development system
Challenging spirit
Foster a spirit of positive thinking
Ownership
Developing owner's consciousness to handle own tasks with
independent will for all activities
02

Respect of the technology
03

Respect of the environment
01

Management of the belief
02

Management of the scene
03

Management of the prosperity